May 6th:
Hello AB family!
We are so happy to be back in the gym and have missed everyone so much. We have put so many new protocols in place already, yet after a few days of being open, we still see some more ways that we can improve.
As a reminder, we ask that if at all possible, parents stay in their cars or run errands during their child's class…at least for the next two weeks when we find out more from the city and their suggested guidelines. This minimizes people in the gym and makes social distancing much easier.
We have also decided that starting Monday, May 10th (and until further notice), all classes will end on the 50 mark of the hour instead of the 55 mark. We have noticed a lot of congestion in the lobby as one class leaves and another enters. In order to provide more social distancing, the next class can wait in their cars or outside until they see the class before them leave. We will also be using this time for even more sanitizing and cleaning.  It's very difficult for the coaches to do this in the current five minute turnaround time that they have and also maintain their high level of coaching to the classes while they are there.
We appreciate all of you so much and know that the choice for you may be to stay home awhile longer. We understand that decision completely and will be excited to see you when you decide to return to the gym.
Respectfully,
AB Staff
May 1st:
First and foremost, thank you so much for being patient with us. We are adding numerous times for classes and make ups to accommodate everyone. We are also making sure our staff is up to date on the current gym cleaning policies and social distancing guidelines for our re-opening on May 4th!
For more info on how we are addressing this, please check out our video on Facebook:
https://www.facebook.com/AIRBENDERSGYM/videos/1901778806620009/
For all who have paid April tuition, you will not be recharged for May. If you have not paid for April, May tuition is posted to your account!
For all who paid March tuition, you are owed 2 makeup classes for the last 2 weeks of March while we were closed. For the next 2 weeks (May 4-14th) Monday-Thursday we will host makeup classes at 1:00 p.m. each of those days. A weekend option for working parents is Saturday (May 9thand 16th) at 9:00 a.m.!
For staffing reasons, please RESERVE YOUR SPOT by messaging us via Facebook or email us at airbendersinfo@gmail.com!
You may also use open gyms as your makeup time. Those are offered Monday-Wednesday at 2:00 p.m. for all ages, Saturday 11:00 a.m. – 12:00 p.m. for ages 6 and under, or Saturday 12:oo p.m. – 1:00 p.m. for ages 7 and older. All open gyms are open to the public as well for $10 per child.  No reservations are needed to attend open gym, however, if you are using it for a makeup time, please message us ahead of time.
NEW CLASSES:
We are adding in a few new classes to spread out traffic in the gym! If you are already enrolled in a class, don't worry, you still have that spot! But if you see a time listed below that you prefer, message us, and we can get you switched over! These new classes will only be offered through the end of July.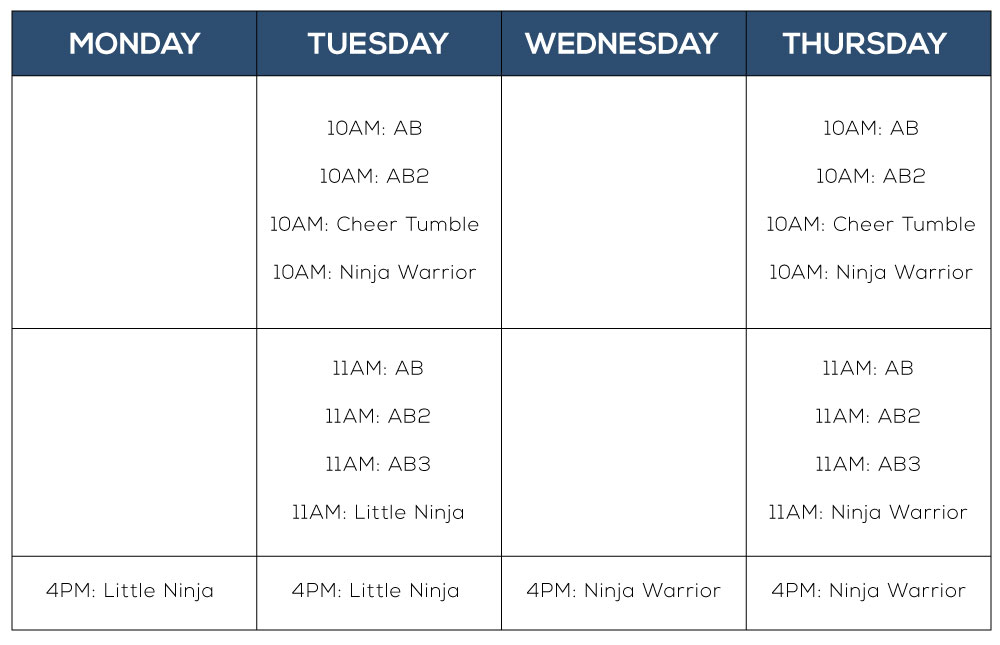 COMPETITIVE TEAMS
TNT
We are moving our practices to Monday, Wednesday, and Friday from 9:00 a.m. – 12:30 p.m. An extra 30 minutes has been added to practices all through May to make up for the lost time in March.
Pre-team practice will be Monday and Wednesday 10:30 a.m. – 12:30 p.m. through the end of May. Your practice has also been increased by 30 minutes for the reasons stated above.
Nationals has been postponed. No exact dates have been sent out yet, but we will send those out to you as soon as we get any news.
CHEER
For the two competitions that have been postponed, we will be crediting your accounts for next season. Since entries are paid months in advance, the competition itself is only offering credit towards their next events. In turn, we can only offer a credit from our end. That $200 can be used for tuition or competition costs for next season.
Please check with Casi for your updated times for practices throughout the week! Tryouts are coming up, so we are also opening up practices to the public!
Again, thank you so much for sticking by us! We can't wait to see everyone back on Monday!
AB STAFF