Our Coaches
We hold each and every one of our staff members to a very high standard.  Every staff member is a certified instructor, must pass a background check, and are required to take specific courses through USA Gymnastics before being named a coach at our gym.
On top of our entry-level standard courses, we hold monthly training for our coaches to stay fresh with new techniques and safety protocols.
Our courses include:
U100: Fundamentals of Gymnastics Instruction

U101: Safety and Risk Management

U110: SafeSport Refresher (each year)

U112: Tough Coaching/Emotional Abuse

U113: USAG SafeSport Policy Course

U201: Concussion Education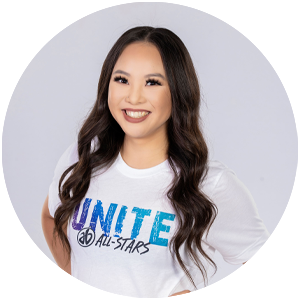 Coach Rose
Coach Rose started tumbling and trampoline when she was just 6 years old. She competed until she was 18, won several National Championships, and even competed for Team USA in 2007. In college, Coach Rose was a cheerleader for the great Oklahoma State University! Coach Rose started coaching at the age of 14 as a helper that held the barrel so kids didn't fall, walked kids to the bathroom but the majority of those years pushing a vacuum. She worked on days that she didn't practice to pay for her own travel and competition fees. After college, Coach Rose got married to Coach Matt and helped him run a competitive trampoline and tumbling team that has produced countless State, Regional and National Champions. She also loves coaching the preschool aged kids because their pure personalities can light up anyone's day! Her favorite color is grey, she loves food and a fun fact is that she is easily the loudest coach in any gym.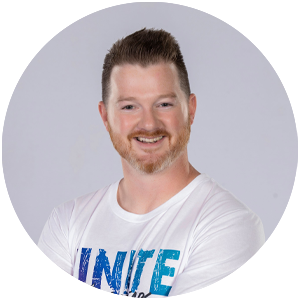 Coach Matt
Coach Matt graduated from Claremore High School in 2003. He cheered his senior year and made All-Region and All-American Cheerleader. He began his long coaching career at Gymnastics City during all four years of high school. He then attended and coached at NEO A&M for a year before attending and cheering at Oklahoma State University while studying Physical Education from '04-'08. While in college, Matt earned 4-year All-American Cheerleader and placed 3rd twice and 2nd twice at NCA College Nationals…all while also coaching at Youth Fitness Zone in Stillwater for those 4 years.
After graduating, Matt became Head Cheer Coach of Claremore High School for 4 years, Head Cheer Coach at NEO A&M for 4 years and Head Cheer Coach at RSU for 4 years. He then broke his 4-year spell by coaching at Elite Gymnastics for 9 years as Gym Director and Head TnT Coach (this is where he met his lovely wife, Rose).
Matt has coached for 20 years since the age of 14. He has experience coaching Women's Artistic Gymnastics, school cheerleading, All-Star Cheer, and Trampoline and Tumbling. He has coached many State, Regional and National Champion athletes between all sports.
Currently, Coach Matt is the Head Coach for the Trampoline and Tumbling (TnT) program. He is also the Oklahoma State Chair for TnT. He spends some of his weekends working for Rockstar Championships. With any remaining free time, he serves as the Head Janitor at Airbenders.
Coach Matt is achieving his dream of owning his own gym. He loves interacting (goofing off) with all the athletes, helping them achieve new skills and seeing them gain confidence as they get better.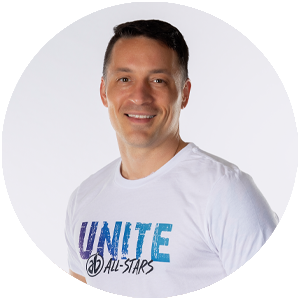 Coach Tom
Tom Mortimer is an American Ninja Warrior competitor who spends his days as the Tulsa Zoo Bird Department Supervisor. He works closely with all kinds of exotic and endangered species of birds. But in the evenings and weekends, he trains on the multiple ninja-style obstacles he built in his backyard. He credits his start at American Ninja Warrior to his young son, Landon. After watching the show together, Landon turned to his dad and said, "You can do that!" So he did…after a lot of hard work. Tom has since competed on four seasons of the show with hopes of returning soon. When not training for ANW, he is finishing in the top 20 of obstacle course races such as Conquer the Gauntlet and Rugged Maniac. From the time Tom was a teenager, he has been training and coaching kids in athletics including baseball, football, swimming, track. Tom loves to be silly and fun while maintaining a safe environment where students can learn and grow together.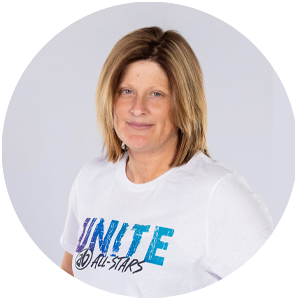 Coach Casi
Coach Casi graduated from Claremore High School. She received her Bachelor of Science Degree in Education with certification in 3 areas and obtained her Master's Degree in Health and PE at NSU. She was the Cheer Coach at NSU from 1993-1995. Casi then moved to Okmulgee Public Schools where she was the Girl's Head Basketball and Softball coach. During the 5 years she was in Okmulgee, she also coached Jr. High Basketball and Track. In 2000 she was the Blackwell High School cheer coach where her team won both Regionals and the State Championship.
Casi has been the owner and coach of the TOS ALL Stars since 2001. During this time, she coached Owasso High School cheer from 2003-2007 and has worked with the Future Owasso Rams Program since 2005.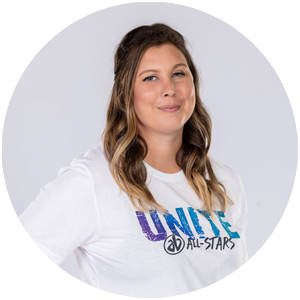 Coach Brittany
Coach Brittany has been cheering since she was 7 years old. She was an Oklahoma All-State Cheerleader and cheered at Northeastern Oklahoma A&M. She started coaching gymnastics in high school and has since coached youth cheer, tumbling, competitive cheer and high school cheer. She is very excited to work at Airbenders and continue growing as a coach.
Brittany also serves as our print and media go to person. She is very creative when it comes to designing marketing materials and social media posts. She received her Bachelor's of Science Agricultural Communications from Oklahoma State University. Go Cowboys!! When she is not at the gym or coaching high school cheer, you can find her enjoying activities like photography, eating Mexican food or watching her children rodeo and play sports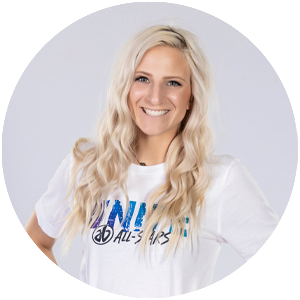 Coach Chelsea
Coach Chelsea started trampoline and tumbling when she was just a wee little one. She ended her TNT career by placing in the 2009 National Championship. Coach Chelsea started coaching classes as a helper when she was just 12 years old. She has continued coaching on and off in the TNT world since then. She loves working alongside her BFF, Rose who she grew up competing with all those years ago.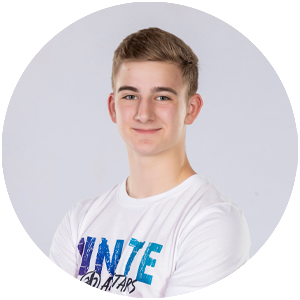 Coach Jonathon
Jon attended Owasso High School and has been on the Trampoline and Tumbling team since he was 6.  He currently takes classes at TCC.  He has been coached by Matt and Rose since 2008 and has recently qualified to be a senior elite on trampoline and double mini.  He has been coaching since 2016 and loves teaching athletes new skills on trampoline.
Coach Makenzi
Coach Makenzi is studying to be a radiology technician in college.  She graduated from Owasso High School in 2019.  She was a cheerleader from the time she was 5 through her senior year.  Makenzi has done both competitive and school cheer.  She was on the Varsity Cheer Squad from 2016-2019.  They won NCA, Stunt State, Gameday State, and many other awards through competitive cheer.  She started coaching Owasso F.O.R. teams in 2017 and then started helping Coach Casi with more F.O.R. teams in 2018.  She's excited to be at Airbenders and works with everyone from our baby class to our cheer tumble class.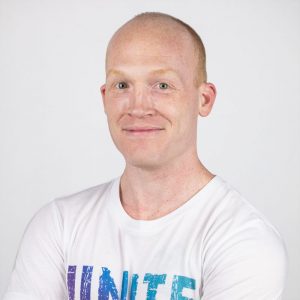 Coach Sam
Coach Sam has trained in Ninja for many years. He qualified for Worlds for UNAA in 2018, 2019, 2021. In Season 6, Sam was the 10th place overall qualifier for Pro Male. Sam has also competed on American Ninja Warrior.  He was featured on season 9 reaching City Finals and placed 28th.  He was also on Walk On Line in Dallas for season 10 but didn't get to run. Seasons 11, 12, and 13 Sam was a tester for the show and traveled to OKC, St Louis, Tacoma, and Vegas. He performed on more than 50 of the obstacles featured on the show. On seasons 11 and 13, he was awarded the Top Tester badge and on seasons 12 and 13, Sam was only 1 of only 30 people selected to test.  Coach Sam was the head coach at BA Ninja Warrior for 2 and a half years before joining the Airbenders family. Ninja is the only sport Sam has ever been in but he also enjoys rock climbing.
*Fun Fact: on Season 13 of American Ninja Warrior, the Challenge Producer gave Sam the nickname to use on set "Sam the Night Man" for working until sunrise and the crew refused to call him anything different.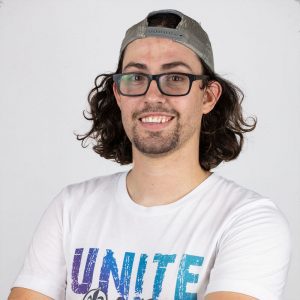 Coach Logan
Coach Logan started training for Ninja after he watched season 4 of American Ninja Warrior when Brent Steffenson beat the Ultimate Cliffhanger in stage 3.  At first there weren't any ninja gyms in the area so he plugged in to rock climbing instead.  First he climbed at TCC campuses, then at LifeTime, and finally at New Heights which eventually became Climb Tulsa. Throughout that time, he also started doing OCR's (obstacle course racing) like Conquer the Gauntlet.  Eventually some ninja gyms started popping up in the Tulsa area starting with Conquer Fitness which was run by the Conquer the Gauntlet crew.  Logan trained there for a couple of years and then BA Ninja Warrior opened and asked Logan to coach there.  He volunteer coached there for 3 years and then joined Airbenders as a spot to both train and to coach.
Coach Zach
Coach Zach has been training as a ninja since 2018. He has qualified for regional and world championships throughout these years.  Zach is going to school to be a chemical engineer with a focus on Nanotech.  He absolutely loves working with kids, loves this awesome sport, and can't wait to see you all in class one day!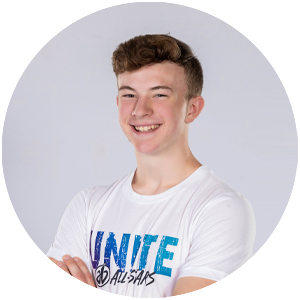 Coach Hudson
Coach Hudson has a lot of experience with kids as well as in leadership and fitness. He's the oldest of 5 siblings and has worked as a small group leader at his church and now he volunteers at preschool too. He's been in boy scouts for a little over 3 years and is closing in on Eagle Scout. He's also served as the Boy Scout President. Coach Hudson wrestled for 4 years and won State.
Coach Hudson loves teaching kids, he loves fitness and loves ninja. He is a member of the UNAA (Ultimate Ninja Athlete Association) and spends many of his weekends competing. He qualified for Worlds in Season 5 and plans to win it this year! A big passion of his is getting kids motivated to workout, be strong, and have fun doing it. Ninja is the perfect sport to see all of that happen!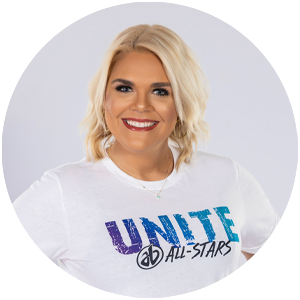 Coach Natalie
Coach Natalie was born and raised in Owasso. She began her cheerleading career in 2001 with Coach Casi at TOS Allstars, and has been with her ever since. In high school she was a member of Owasso Varsity Cheer, TOS and began coaching. She attended Oklahoma State University and earned a Bachelor of Science in Business Administration for both Marketing and Sports Management in 2015. GO POKES! Natalie's favorite part of coaching is seeing the team come together to work hard and achieve their goals. She is excited to continue sharing her passion at AB Cheer!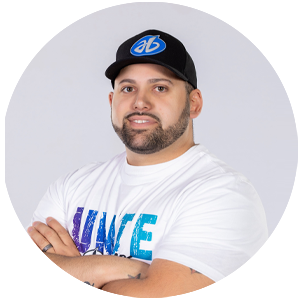 Coach John
Coach John has over 17 years of cheer experience. He is originally from the Bronx, New York but moved to Oklahoma in elementary school. During his elementary years, he moved to Puerto Rico for a year, then back to New York before settling back in Claremore again. He has known Coach Matt since high school in Claremore where they cheered together and became regional champions. He cheered at NEO in Miami, OK and at RSU in Claremore where he graduated with a Psychology degree. While in college, Coach John's cheer team took 2nd place in the College Cheer Nationals. He is the head honcho at Airbenders in stunting and has helped many athletes practice for their college cheer tryouts. Coach John has been married for 7 years and has three kids. He also works as an outside sales rep for Pixley Lumber when he's not at Airbenders. He loves the team atmosphere of cheerleading but also loves working individually with cheerleaders to achieve new skills.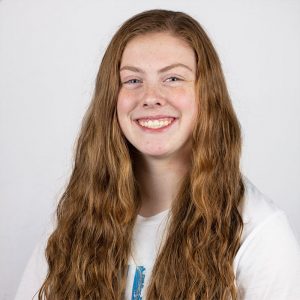 Coach Izzy
Coach Izzy started at the Little Gym at 18 months old.  Then at 2 ½, she joined a mommy and me class with Coach Rose.  She continued recreational classes until age 5 when Coach Matt invited her to Pre-team for Trampoline and Tumbling. She has been competing ever since!  She loves the sport and never wants to miss a practice.  Izzy also has been in the competitive ninja program at Airbenders with Coach Tom since 2018. She attends competitions whenever they don't conflict with her tumbling schedule. She especially loves to lache since she loves to fly through the air. Izzy attends Owasso High School and is also on the Owasso Rams swim team.  She stays busy with her three sports but always looks forward to coaching and sharing her love and knowledge of tumbling with the kids just starting out.  She loves the hugs she gets from the kids and also enjoys witnessing their excitement when they get a new skill.  In the little bit of free time Izzy can find, she likes to hang out with her family, travel anywhere, read, or spend extra time at the gym.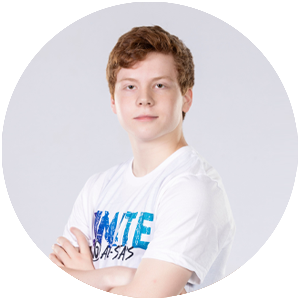 Coach Seth
Coach Seth has been tumbling since 2016 and began tumbling competitively in 2017.  He is a Level 10 on all events.  He is a 3 time State Champion in Tumbling and Double Mini, a 2 time Regional Champion in Trampoline, Tumbling and Double Mini as well as a 2 time National Champion in Tumbling and Trampoline.  Seth is in high school and attends Epic Charter School online.  He has been coaching since 2020 and his favorite part is seeing the kids overcome their fears and learning new skills.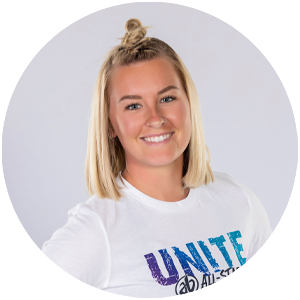 Coach Skylar
Coach Skylar was pretty much born into cheer and quickly fell in love with the sport. She started her first REC team at 5 years old and began All-Star cheer at 6 years old. She has cheered at many gyms, including: CDX (cheer dynamix), All-Star Legend, ECC (extreme cheer company) and Twist & Shout. From the age of 12 until retirement she was on a level 5 team. Among all things she has experienced during her cheer career, her love for cheer never subsided. It will always be her passion to learn and coach this amazing sport.
Coach Kylie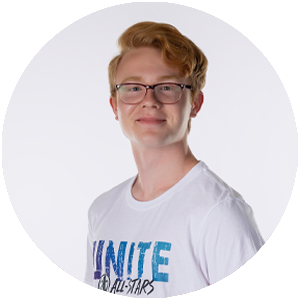 Coach Ben
Coach Ben has been with our gym since 2018, first beginning as a student, and closely after beginning employment with us. He began his fitness journey with competitive soccer, which he engaged in for over 8 years with various associations. He has a lot of experience with kids of all ages, as well as with fitness and overall physical education. He is a brother to four and has been volunteering at church events,  small groups, and various organizations for as long as he can remember. Coach Ben is a member of the UNAA (Ultimate Ninja Athlete Association) and managed to place 15th in the USA in 2021.  The core values he holds closest to his heart, and his classes, are PERSEVERANCE, ATTITUDE, and above all, HARD WORK.
Coach Kendell
Coach Kendell currently attends the University of Tulsa. She graduated Owasso High school in 2021. She has been tumbling since she was 3. Matt and Rose have been her coaches since she was 12. Kendell has been coaching since 2019. She loves kids and enjoys seeing how excited kids get when they get a new skill.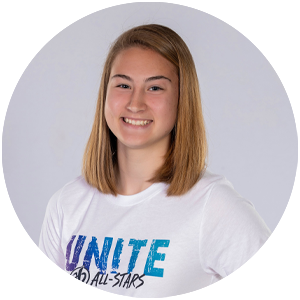 Coach Taylor
Taylor is currently attending Owasso High School. She started gymnastics at age 2 and continued until she was 14. After gymnastics she started American Ninja Warrior, rock climbing, and obstacle course races. She began coaching gymnastics and power tumbling when she was 13 and then started coaching ninja at 14. Taylor completed her first competitive season of ninja at age 14 and continues to grow in the sport she loves.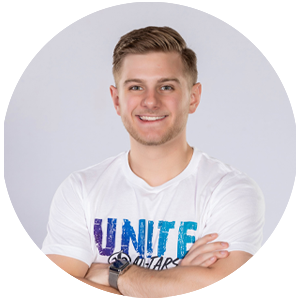 Coach Jacob
Jacob cheered for Owasso varsity achieving two pacesetter awards, two academic state champs, and an NCA national title. This will be his third year coaching and he loves working with the TNT team. He currently cheers for the University of Tulsa (Reign Cane) and loves Skittles and Firey Doritos Locos Tacos if you ever want to get him a gift.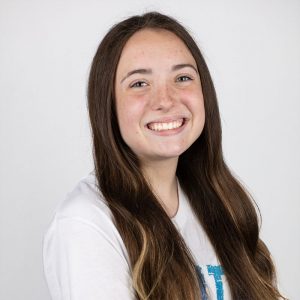 Coach Molly
Coach Molly has lived in Owasso her whole life and is in the Owasso Class of 2025. She started tumbling at age 9 and competitively tumbled for 5 years. She also did competitive ninja for a year. She started volunteering with Bijou at the end of 2019, and now loves getting to coach them every week.
Coach Hayleigh
Coach Hayleigh was born and raised in Sperry, OK.  She has been cheering since 2010 and all but the first year have been with Coach Casi.  She was at TOS for 7 years and has been cheering at Airbenders since then.  She loves working with kids because they always have something super funny to say.  She plans on going to OSU to study Culinary Arts.  She is the oldest of five sibling and the only girl.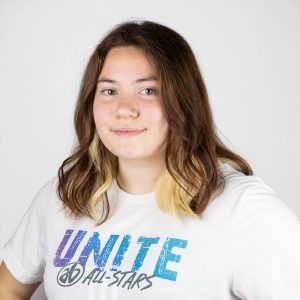 Coach Audrey
Coach Audrey currently attends high school in Bartlesville. She was a gymnast for 6 years and then transferred into cheerleading which she has done for 7 years. She enjoys watching kids get new skills and in her free time, she reads a lot.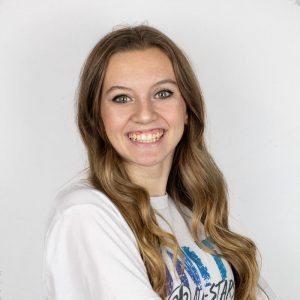 Coach Jadyn
Coach Jadyn has been coached by Matt and Rose since 2018.  She has had a lot of experience in both cheer and gymnastics.  In 2021, she was the overall level 6 State Champion in Double Mini and also placed 1st at Nationals on Trampoline and 2nd on Double Mini in 2021.  She attends Collinsville High School and is the middle of 6 siblings.  She has grown up being the babysitter and loves kids.  Her favorite things about coaching is talking the kids about their day and seeing progress being made.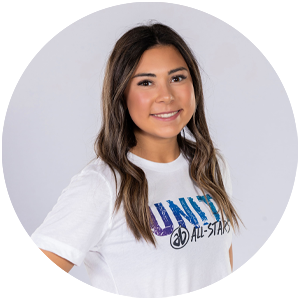 Coach Ramsey
Coach Ramsey currently attends OU.  She graduated from Collinsville High School in 2020.  She has been tumbling since age 3.  She competed for 7 years with Matt and Rose and won numerous State, Regional and National medals during that time.  She was on the Allstar Cheer team with Coach Casi for 2 years as well.  Ramsey has coached since 2016 and has taught all classes from our Baby Benders class to our Ninja class.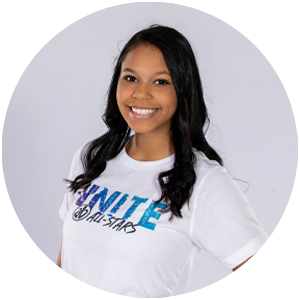 Coach Caidyn
Coach Caidyn currently attends OSU.  She graduated from Owasso High School in 2020.  She has tumbled since she was 3 years old.  Matt and Rose were her coaches for over 11 years and was competing at level 10 when she left the sport to be on competitive cheer.  Caidyn has been a preschool and TNT coach since 2014 and absolutely loves kids.  Her favorite part about coaching is watching how excited her students get when they learn new skills.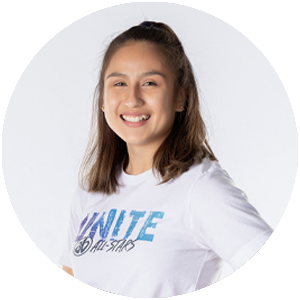 Coach Aiden
Coach Aidan graduated from Owasso High School and currently attends OU. She has been been tumbling since age 5. Matt and Rose were her coaches for 9+ years when she was on the TNT competitive team. She loves kids and is so excited to be coaching. Her favorite part is getting to teach new skills and having fun with the kids.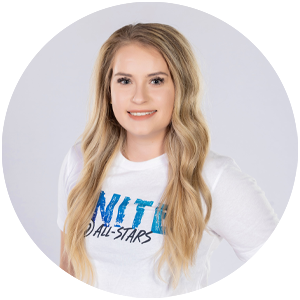 Coach Rebekah
Rebekah has been involved in cheer for 15 years. She cheered through all four years of undergrad at Rogers State University, with Matt & Rose Hinds as her coach. Her teams competed at NCA College Nationals in Daytona.  All four years, the Hillcats placed with a top ten finish.
 When Rebekah is not coaching, she is working at a medical spa in Tulsa, Empower Spa and Wellness Center. In her off time, you can expect her to be at the dog park, at home reading, or spending time with her 12 nieces and nephews!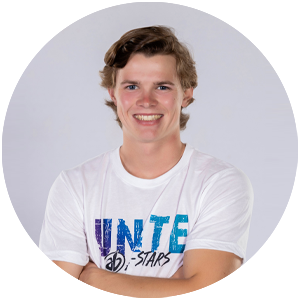 Coach Dawson
Coach Dawson in an active ninja/CrossFit athlete and loves to compete. He started in the sport of ninja last year and was already very close to making it to the World final competition. He has lived in Owasso ever since he was 2 years old. Growing up, he played football, baseball, and basketball until his sophomore year in high school when he just focused on playing baseball for Owasso High School. He graduated in 2018 from OHS and recently received his Associate's Degree in Science from Tulsa Community College. Coach Dawson's academic goals are to become a registered nurse and be able to work in a hospital. In his free time, you will find Coach Dawson hunting or fishing.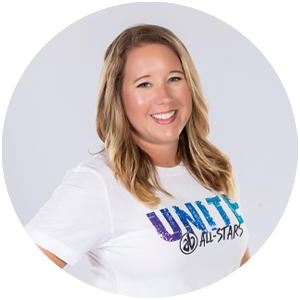 Coach Amber
Amber has 8 years of competitive cheer experience.  In high school, she cheered on her high school squad and the All-Star team at Callaway Cheernastics.  She graduated from Oologah High School and went on to cheer at Eastern Oklahoma State College.  While there, she coached FOR cheer squads and middle and high school squads.
Amber received both her Bachelor's Degree in Arts and Master's in Science from Northeastern State University.  Amber has worked in the mental health field for 14 years, serving children between the ages of 10 and 19. Amber began her experience in this field working with adolescents on probation before moving into the school and family counseling setting.  She has provided supervision for interns coming into this field as well as conducted trainings on suicide prevention, de-escalation, and bridging the gap with counseling in schools.  Amber works closely with Magalassi Foundation (We Matter) for suicide prevention and has conducted QPR trainings within the schools for students and staff.
Amber has a love for cheer and tumbling.  Due to her job and experience, she can more quickly spot when an athlete is getting frustrated and can step in to help them refocus or talk them through it.  She loves watching the faces on the kids light up when they learn a new skill and loves seeing them just enjoying themselves.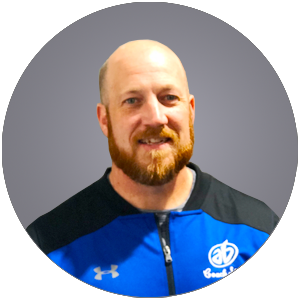 Coach Steve
Coach Steve is excited to bring over 26 years of successful coaching competitive experience to Airbenders. He has produced over 170 national champions in this wonderful sport. He has coached many athletes that have been named to Junior and Senior National Teams that have represented the United States at the World Championships and World Age Games. Coach Steve was also named National Team Coach twice to represent the United States at the World Age Games and was also awarded a Master of Sports certification for his production in this amazing sport. He coached Trampoline World Champion Shaylee Dunavin that also medaled at the World Age Games on tumbling and double mini. He also produced Alaina Williams that was the second alternate to the Olympics. Coach Steve has served this sport as State Director for West Texas and North Texas and was elected as Athlete Representative to serve on the national level. He is humbled to serve Matt and Rose in such a wonderful gym that has the atmosphere to produce champions in both this wonderful sport and life.